According the provisions of Vietnamese law and WTO accession commitments, foreign investors can open restaurant in Vietnam. Read the article with Sunday Corp to find out the types of documents that businesses need to prepare before opening a restaurant.
In order to set up a restaurant business, foreign investors need to follow all the procedures prescribed by Vietnamese law. To carry out this process, investors need to complete the following 5 types of licenses:
Investment certificate license
Business registration license
Food safety and hygiene license
Alcohol retail license (if trading alcohol)
Registration of environmental protection plan.
1. Investment certificate license
According to the requires of 2014 Investment Law, a dossier of an investment certificate license for a foreign investor includes:
Written request for implementation of investment project;
Copy of identity card or passport for individual investors; copy of the Establishment Certificate or other equivalent documents certifying the legal status for institutional investors;
Proposal of investment project including the following contents: investor implementing the project, investment objectives, investment scale, investment capital and capital raising plan, location, duration, schedule of investment, labor demand, proposal of investment incentives, impact assessment, socio-economic efficiency of the project;
Copy of one of the following documents: Commitment to financial support of the financial institution; guarantee of financial capacity of the investor; documents explaining the financial capacity of the investor;
Processing time: Within 15 days from the date a valid application is received.
2. Business registration license
For business registration licenses, according to Decree 78, a dossier comprises,
Application form for enterprise registration
Foreign passport or equivalent document which can replace foreign passport and it is still valid.
Processing time: Within 3 days after the valid application is received.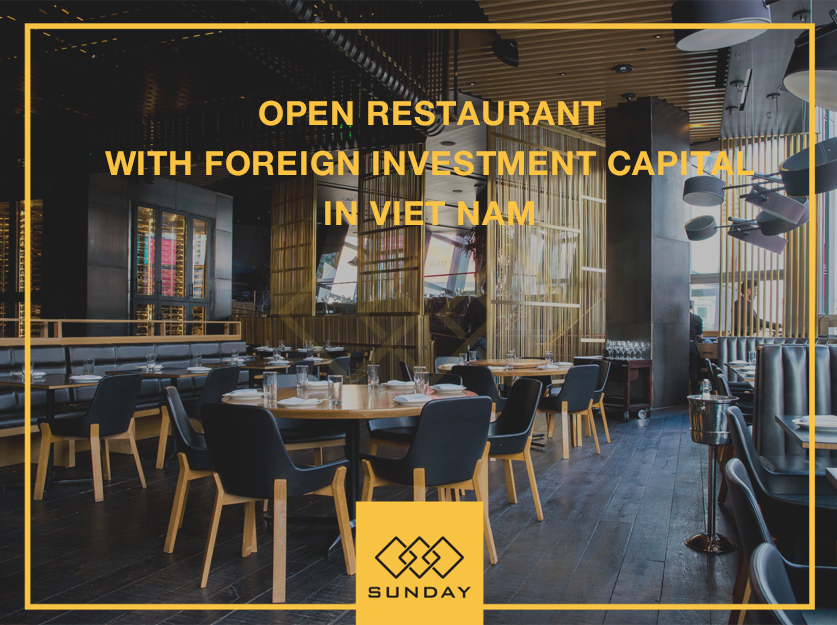 3. Food safety and hygiene license
When you want to open restaurant, your company need to apply for a Food safety and hygiene license at the Department of Food Safety and Hygiene – Department of Health. Records include:
The application for confirmation that the enterprise is eligible for food safety.
Certificate of business registration with food business registration (a copy certified by the establishment).
A description of material facilities, equipment and tools to ensure food safety conditions (certified by the establishment).
Certificate of training in food safety knowledge of establishment owners and people directly involved in food production and trading.
A certificate of full health of the owner and the person directly involved in producing and trading food
Processing time: 20 working days
LEARN MORE >>> ESTABLISHING A REPRESENTATIVE OFFICE IN VIETNAM
4. Alcohol retail license
If your restaurant runs a liquor business, then you need to apply for a Wine Retailer License. Records include,
An application for a liquor retail license.
Valid copy of the business registration certificate.
Valid copy of the tax code certificate.
Referral document or retail / agency contract with at least one liquor supplier.
Profile of business location.
Documents proving the right to use the place of business (be owned or co-owned or leased to use for at least 01 year);
A list of equipment for inspecting and adjusting the temperature and humidity in the liquor trading area (to ensure that the business area is always airy, cool and free from direct sunlight on liquor products);
Documents related to safety of fire prevention, hygiene and food safety and environmental protection in accordance with the law.
Processing time: 15 days
5. Registration of environmental protection plan
If your restaurant is larger than 200m2, you also need to register for an environmental protection plan.
The dossier includes: Environmental protection plan
Processing time: 10 working days
Registered place: Division of Natural Resources and Environment – District People's Committee

SUNDAY CORP – Dịch vụ thành lập doanh nghiệp Đà Nẵng
Địa chỉ: Tầng 7 | Toà nhà Bộ Kế Hoạch Đầu Tư khu vực miền Trung – 103 Lê Sát, Q. Hải Châu, Đà Nẵng
Điện thoại: 02363 623468
Fax: 02363 623479
Hotline: 0905 909 639
Email: linh@sundaycorp.vn
Website: https://danangbusiness.com/