Da Nang city, in recent years, has experienced such a considerably sustainable growth that helps to confirm its strategic position in both domestic and global market. It worth noting that, such development has captured the investor's attention not only in Vietnam but also from other countries. That even surpassed the reputation of Ha Noi capital and Ho Chi Minh commercial hub.
Located in the central of Vietnam, Da Nang is one of the five largest cities and serves as the gateway connecting to other regions. Da Nang has been endowed with the variety of nature as well as the attractiveness of tourist destinations that offers the city definite competitive advantage. This city is also well-known for the ear-catching name "the most livable city" in the country or "Singapore of Vienam". In recent years, the city has undergone significant changes, underpinned by a sustainable approach to urban development.
The attractiveness of Vietnam's economy to FDI
According to Bloomberg statistics, Vietnam ranked first among seven emerging economies in Asia in terms of destination for manufacturing-processing enterprises basing on such elements as population structure, wages, electricity prices, business environment ranking, logistics and manufacturing-processing shares in foreign direct investment (FDI). Also, it is emphasized that besides cheap production costs, the growth and stability is a huge attraction to FDI inflows into Vietnam.
Forbes also said that Vietnam is an attractive destination for multinational companies as it has advantages to export goods without paying tax.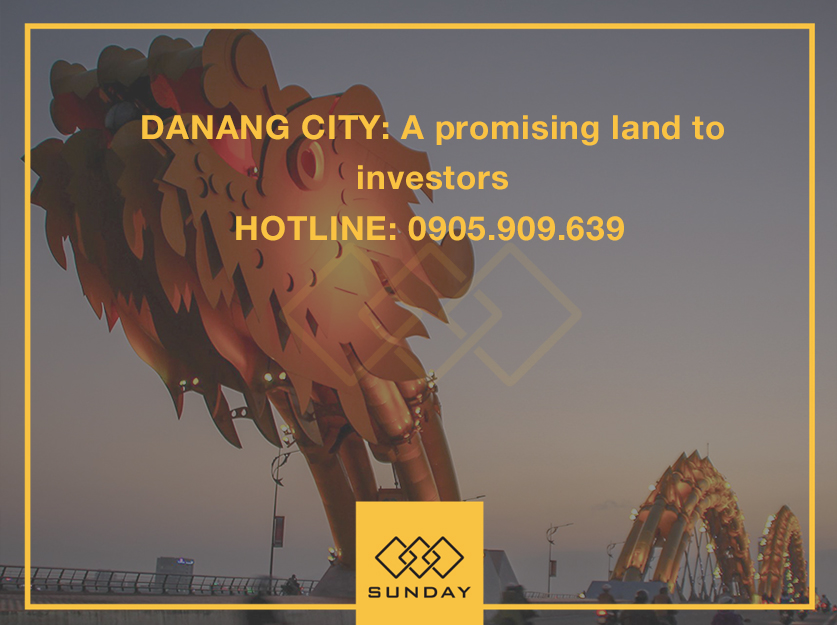 Why Da Nang has caught the investor's attention?
It is appraised that Da Nang is "in the right place at the right time". In the context of the exponential increase of the US – China trade war, and the growth in costs of production in China, Vietnam has become a go-to destination for both local and foreign investors. Having said that, Hanoi and Ho Chi Minh city still command the lion's share of foreign direct investment. Nevertheless, since the great number of employee from surrounding provinces poured in these two cities for seeking job opportunities, it is becoming more and more crowded. Thus, it leads to the rise in land demand and labor costs.
Regarding tourism industry, Da Nang is famous for its hospitable people, gorgeous view, breathtaking scenery, and excellent fresh food. Hence, the city attracts millions of tourists each year that greatly contribute to the boost of economy.
The investors in any fields, as a result, earned high profits thanks to the high demand for food, entertainment service, etc. from both local people and foreign visitors.
Due to those objective factors, many investors tended to turn their attention to the central region, in which Da Nang becomes a focal point. Investors who are looking for a promising emerging market in Vietnam are encouraged to take such a dynamic yet friendly city as Da Nang into consideration.
How Sunday Corp supports investors in Da Nang?
Foreign investor, when having made an informed decision to invest in Vietnam, often face difficulties in legal issues because the difference existing in language and law system. Sunday Corp understands those challenges and therefore, is established to help you potential investor in dealing with that. We are confident to:
Give helpful advice about legal business lines which is for business registration and business activities
Support you legal work from business registration to business activities
Provide precise and useful information on applying relevant documents to authorities
Provide relevant service for your company: accountant service package, taxes reporting service, etc.

If you are having the intention to invest in the most livable city of Vietnam or set up a company in Da Nang, do not hesitate to contact Sunday Corp for the enthusiastic and active support. Our company, with nearly ten-year experience in this sector, committed to provide the professional consulting service and bring investors the highest satisfaction. Sunday Corp is always there and willing to help you.
For further information >>> How to set up a company in Da Nang
———————————-
SUNDAY CORP – Dịch vụ thành lập doanh nghiệp Đà Nẵng
Địa chỉ: Tầng 7 | Toà nhà Bộ Kế Hoạch Đầu Tư khu vực miền Trung – 103 Lê Sát, Q. Hải Châu, Đà Nẵng
Điện thoại: 02363 623468
Fax: 02363 623479
Hotline: 0905 909 639
Email: linh@sundaycorp.vn
Website: https://danangbusiness.com/